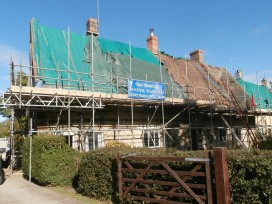 Last Fall, George Washington's ancestral home at Sulgrave Manor in Oxfordshire, had several farmhouses reroofed using the ancient craft of thatching.
Thatched roofs for cottages and farm buildings were the architectural norm in rural Britain for more than a thousand years.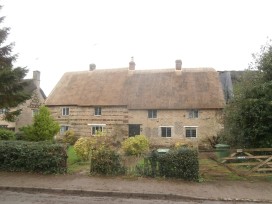 We congratulate Sulgrave Manor's successful restoration using this traditional and sustainable building material!
Sulgrave Manor is a superb example of a 16th century Manor House and Garden. It was built by Lawrence Washington, direct ancestor of George Washington, the first President of the United States of America. In 1914, Sulgrave Manor was presented by a body of British subscribers to the Peoples of Great Britian and the United States, in celebration of the Hundred Years of Peace between the two nations.
In 1924, the NSCDA raised $112,000 from 35,000 subscribers to endow the Manor and Grounds in perpetuity. The NSCDA and our members continue to support Sulgrave Manor through participation with the Friends of Sulgrave Manor.
For more information please visit Sulgrave Manor's Website.