American Decorative Arts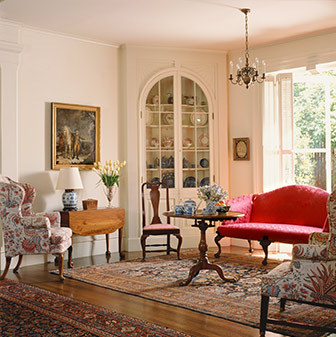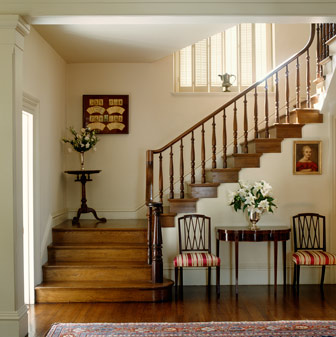 The collections on display at Octagon House Museum represent decorative arts of the American Colonial and Federal periods. There are examples of American furniture, portraits, samplers, and pewter. The collection includes English and Chinese ceramics.
Originally, portions of the collection were on display at the De Young Museum prior to the acquisition of the Octagon House by the National Society of Colonial Dames in America. Over a period of time since the 1920's other decorative objects have been acquired. Collections have been established through gifts, bequests, and purchase.
Also on view is a collection of documents pertaining to Colonial and early American history. Signatures of 54 of the original 56 signers of the Declaration of Independence are part of this collection.
Cell Phones, Film & Still Photography
Museum visitors are not permitted to take photographs (snapshots) or shoot film or video within the Museum.
Octagon House's Colonial Style Garden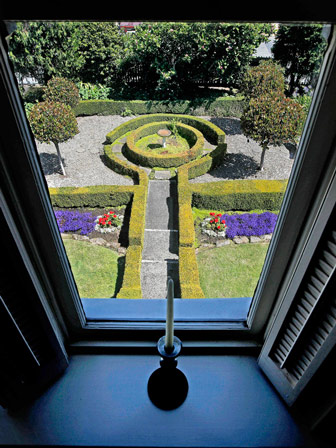 The colonial style garden was laid out adjacent to the house in 1957. Its crisp geometry, created by a low circular box hedge and four Indian hawthorn trees encircle a fountain. Grassy hillocks and beds of annuals are surrounded by camellia, hydrangea, Japanese anemone, tulip trees, and evergreens. In 1993 the garden was given an award by San Francisco Beautiful, a privately funded civic group, "in recognition of a contribution to the creation and preservation of beauty and tradition in San Francisco."
For more information on Colonial gardens see scottdallen.tripod.com/webpage2.htm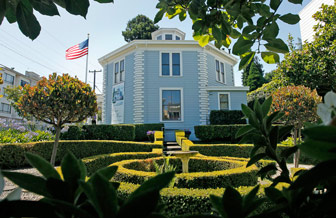 Allyne Park
Allyne Park is named for Edith and Lucy Allyne, members of The NSCDA-CA from 1942 until the early 1960's. The sisters were born and lived all their lives in a huge two-story brown-shingled house and large garden on the south side of Octagon House's present location. In 1952 they gave The NSCDA-CA the lot on the west side of Gough Street to which the Octagon House was moved, and in 1957 added the corner lot for the present Colonial-style garden. In 1960 Miss Edith died and in 1963 Miss Lucy passed away. The Allyne sister's property was zoned for a 140 unit apartment building and put on the market. The NSCDA-CA working with neighbors, The Union Street Association, the Sherman School P.T.A., the Horticultural Society and other organizations petitioned the City to buy the property for a park.
Today the Allyne Park, slightly less than three-quarters of an acre in size, is a delightful neighborhood asset with its winding paths, green lawn, towering old redwoods and other trees, shrubbery and flowering plants. It has become a quiet haven for parents relaxing on its benches while their children scamper around, dogs chasing balls, sunbathers stretching out on the cool grass, and nearby office and shop workers enjoying their lunches. It's an oasis in a very busy neighborhood.
For more information on the park see:
San Francisco Parks and Recreation
San Francisco Park Alliance
Photo credit: Two interiors by David Phelps.