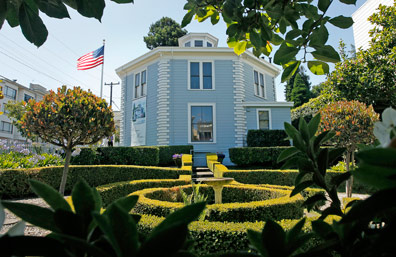 Built in 1861, the Octagon House is a San Francisco historical landmark, an architectural treasure and a Colonial and Federal Periods Decorative Arts Museum.
Hours
The museum and garden are open to the public from 12:00 p.m. to 3:00 p.m. on the second Sunday and Second and fourth Thursday of each month except January. It is closed on holidays.
When The National Society of The Colonial Dames of America in California saved the Octagon House from destruction in 1952, almost nothing was known about the early history of this eight-sided wooden residence.
read more

Fortunately, … two factors combined to save the historic home.
read more
History of Octagon House
In 2011 The NSCDA-CA celebrated the 150th anniversary of the building of the Octagon House. What better way to celebrate that anniversary than recount the history of this San Francisco landmark? CELEBRATING 150 YEARS OF HISTORY AT OCTAGON HOUSE: 1861–2011 appeared in The Argonaut, Journal of the San Francisco Museum and Historical Society in Spring 2011. We welcome you to explore the Octagon House's journey through time in the following pages. You can also

read the PDF of the article.