The National Society of The Colonial Dames of America was founded in May 1891, by a group of Philadelphia women dedicated to colonial history, historic preservation and patriotism. The NSCDA promotes appreciation for the people, places and events that led to the formation and development of our country.
Learn more at nscda.org
In addition to the 41 properties owned by the Corporate Societies, The NSCDA maintains three houses:
Dumbarton House
NSCDA Headquarters – home of Joseph Nourse, first Register of the Treasury. Built circa 1800 in Washington D.C. DumbartonHouse.org
Gunston Hall
Home of George Mason, author of the Virginia Declaration of Rights. Built in 1755 in Mason's Neck Virginia. GunstonHall.org
Sulgrave Manor
Home of Lawrence Washington, direct ancestor of George Washington, our first President. Built in 1529 in Northamptonshire, England. SulgraveManor.org.uk
The Objects of this Society
Collect and preserve manuscripts, traditions, relics, and mementos of bygone days;
Preserve and restore buildings connected with the early history of our country;
Educate our fellow citizens and ourselves in our country's history and thus diffuse healthful and intelligent information concerning the past;
Create a popular interest in our Colonial history;
Stimulate a spirit of true patriotism and a genuine love of country; and
Impress upon the young the sacred obligation of honoring the memory of those heroic ancestors whose ability, valor, sufferings, and achievements are beyond all praise.
Membership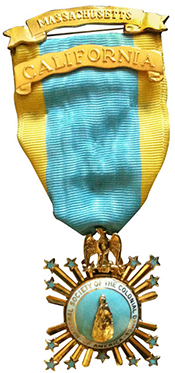 The National Society of The Colonial Dames of America is a lineage organization open to women who are direct descendants of an ancestor who lived in an American colony and who rendered service to the colonies before July 5, 1776 and this date shall be held to include all Signers of the Declaration of Independence.
This California Society is composed of women who are members of The National Society of The Colonial Dames of America and who have met the membership requirements of the Colonial Societies in which they have proven their ancestry.
Membership in the organization is by sponsorship only. Candidates invited to membership have two years in which to complete the admission process. One way is to search the NSCDA's Ancestor Bibliographies: ancestorbibliography.org
Interested? For more information please email us at info@nscda-ca.org and include "Membership" in the subject line. Thank you.